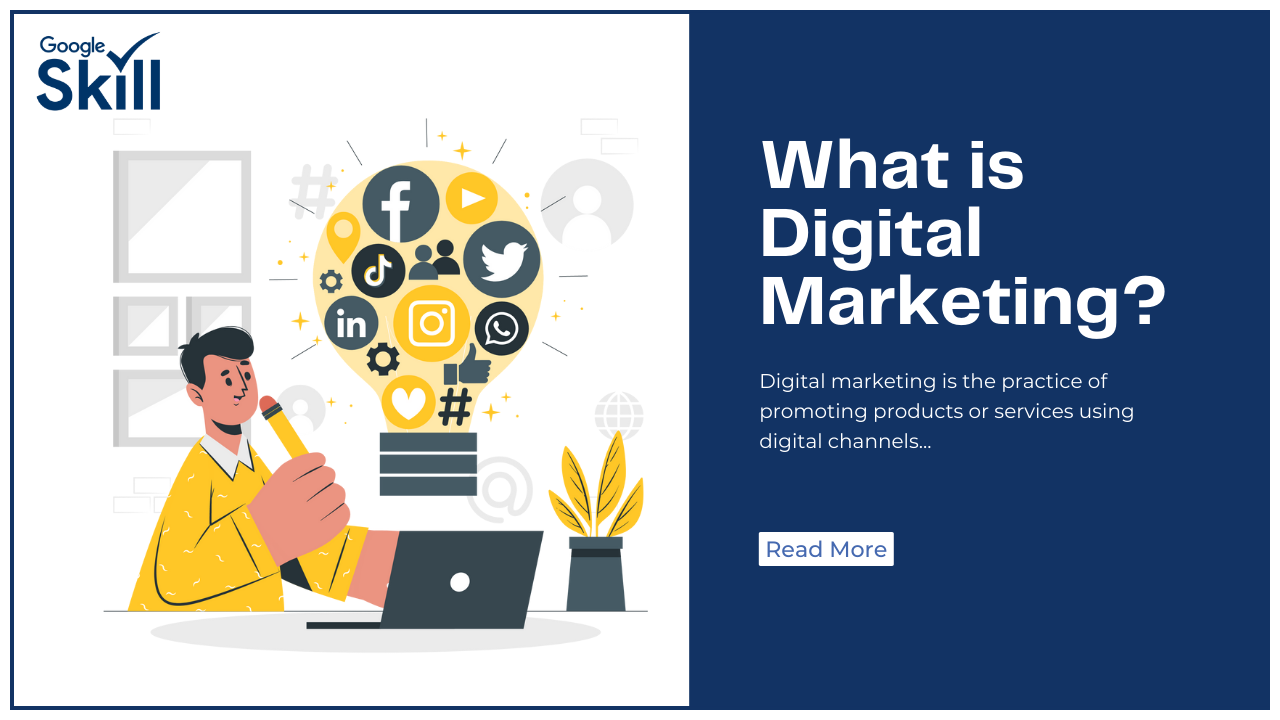 Digital marketing is the practice of promoting products or services using digital channels such as search engines, social media platforms, email, mobile apps, and websites. It involves various techniques and strategies, such as search engine optimization (SEO), pay-per-click (PPC) advertising, content marketing, social media marketing, email marketing, and more, to reach and engage with target audiences online.
Digital marketing has become increasingly important as more and more people use the internet to research products and services before making a purchase. By utilizing digital channels effectively, businesses can create targeted campaigns that reach their ideal customers at the right time and place, and convert them into loyal customers.
The Key Components of Digital Marketing
Search engine optimization (SEO): The process of optimizing a website's content, structure, and code to rank higher in search engine results pages.
Pay-per-click (PPC) advertising: A model of internet marketing in which advertisers pay a fee each time one of their ads is clicked.
Content marketing: The creation and distribution of valuable and relevant content to attract and retain a clearly defined audience and drive profitable customer action.
Social media marketing: The use of social media platforms such as Facebook, Twitter, Instagram, and LinkedIn to promote products and services, build brand awareness, and engage with customers.
Email marketing: The use of email to send targeted messages and promotions to customers and prospects.
Influencer marketing: A form of social media marketing that involves partnering with influencers (people with large social media followings) to promote products or services.
Affiliate marketing: A performance-based marketing strategy in which businesses reward affiliates (individuals or companies) for driving traffic or sales to their website through their marketing efforts.
Benefits of digital marketing
Cost-Effective: Digital marketing is often more cost-effective than traditional marketing methods like print advertising or TV commercials. You can reach a large audience online without the high costs associated with traditional media.
Targeted Audience: It allows you to target specific demographics, interests, and behaviors. This precision targeting ensures that your message reaches the right people, increasing the likelihood of conversions.
Measurable Results: Unlike traditional marketing, digital marketing offers robust analytics tools that allow you to track and measure the performance of your campaigns in real-time. You can see how many people are interacting with your content, where they're coming from, and what actions they take.
Global Reach: The internet has a global reach, which means you can expand your audience beyond your local area. This is especially valuable for businesses looking to reach international markets.
Brand Building: You can use these services to build and strengthen your brand's online presence. Through social media, content marketing, and other strategies, you can engage with your audience and shape how they perceive your brand.
Personalization: You can tailor your content and offers to individual users based on their preferences and behaviors, enhancing the customer experience.
Higher Engagement: Interactive content like quizzes, polls, and contests can boost engagement and encourage user participation, leading to more meaningful interactions with your audience.
Competitive Advantage: Many of your competitors are likely using digital marketing to some extent. By embracing digital strategies and staying up-to-date with the latest trends, you can gain a competitive edge in your industry.
Improved Conversion Rates: With targeted messaging and optimization, digital marketing can lead to higher conversion rates compared to traditional marketing methods.
Scalability: Digital marketing can scale with your business. Whether you're a small startup or a large corporation, you can tailor your digital marketing efforts to your budget and goals.
Conclusion
Digital marketing has revolutionized the way businesses engage with their audience, adapt to changing consumer behaviors, and drive growth. With its diverse range of components and strategies, it opens up a world of opportunities for businesses to connect, engage, and ultimately succeed in the digital landscape. By understanding the core concepts of digital marketing and tailoring strategies to meet your unique goals, you can position your brand for success in the ever-evolving world of online marketing.
Ready to embark on your journey? Take the first step, and watch as your brand's presence flourishes in the digital sphere.